ABOUT GIFTED MINDS
Gifted Minds International School, Opaallaan 1190-1196 Hoofddorp 2132 LN, Netherlands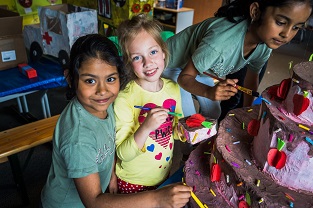 "Gifted Minds" is a premium international school that advocates "Child First" policy. We are a non profit organisation. Our ethos and policies promote in the best interest of the child. "Gifted Minds" school believes that every child is gifted and talented in their own ways. We celebrate this "Giftedness" in every child by nurturing and enhancing their minds to their fullest potential. In addition, every child is respected regardless of their developmental needs, race, religion and nationality.
Mission
We are committed in identifying, recognizing and propelling every child's giftedness and ensuring that they soar in the limitless globalized horizons.
Motto
Empower "Gifted Minds" students to become global citizens.
Core Values: GIFTED MINDS
G  (Growth) : Growing with an affinity and empathy for Nature and the Nation
I   (Intelligence) : Correlating Emotional Quotient and Intelligence Quotient
F  (Foster) : Family, Friends, Educators and Community partnership
T  (Thinkers) : Transpire and enhance talents & "Think Tank" zone of Proximity
E  (Educate) : Empowering "Gifted minds" with a difference and excelling holistically
D (Diversity) : Celebrating Diversity
M  (Mould) : Meeting new challenges with a positive mindset
I   (Inquire) : International minded beings engaging in social and global discussions
N  (Nurture) : Nurturing  creativity ,care,compassion, for ourselves and society
D  (Dedication) : Delivering highest standards of research based quality international education
S   (Social Integration) : Share and Serve the society with a purposeful change