EMPLOYMENT
Gifted Minds International School, Opaallaan 1190-1196 Hoofddorp 2132 LN, Netherlands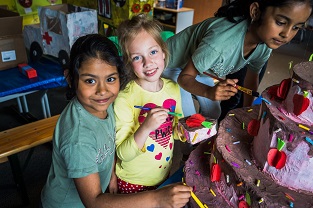 Teachers Required For Gifted Minds International School(GMIS)
GMIS has immediate job openings for Teaching Positions in 2017-2018 for the following positions:
*Homeroom Tutor for Grade 5 (5 Days per week)
*Dutch Teacher (Wednesday & Friday)

Non-Teaching Position:
*Marketing Consultant (Non-Teaching Position) who has experience with Sales & Marketing in Multi-National Corporations(MNC). Commissioned based agreement for this position.
Teachers Needed For Gifted Minds International School(GMIS) for the 2017-2018 academic year
1.Homeroom Tutors (Approved to teach 3-12 years old)
*Primary School Homeroom Tutors must be able to teach English, Math, Science and Social Studies for any grade (3-12 years old) and must commit to teach 5 days per week.
Applicants with IB PYP experience are highly desired.
Teacher's qualities:
*Excellent communicator and team player
*Excellent English language command
*Hard working and respects staff and students
*Excellent knowledge of teaching methodologies and strategies
*High Quality Teaching Practice
*Flexible, creative, willingness to learn and a team player
*Contribution to Learning Area and Curriculum Development
*Building Relationships with Students, Staff and Parents
*Minimum 2 years Primary Years' Experience teaching a specific grade
All staff must get clearance from the Criminal bureau and that they are safe to work with children.
Teachers must be approved by DUO to be able to teach Primary Years Section in the Netherlands.
All staff hired would be given 1 year contract with 1 month probation.
Please note that all applicants should be European passport holders or any other nationalities need to produce valid visas to live and work in The Netherlands.
Before applying, please ensure you read the criteria carefully and indicate if you are applying for the current academic year position or for the following year(2017-2018) and the position you are seeking.
Should you wish to apply, please send your motivation letter of application, teaching philosophy statement, a transcript of degrees, classroom videos/photographs, updated CV, last drawn salary, a recent photograph and testimonials of at least 3 past or current employers to Ramesh@giftedmindsinternationalschool.com