Feedback Process
Gifted Minds International School, Opaallaan 1190-1196 Hoofddorp 2132 LN, Netherlands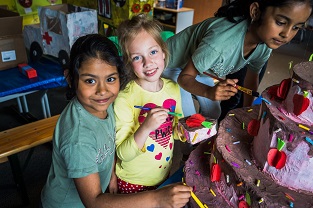 Feedback Process
It is Gifted Minds International School's aim to build a culture of customer service excellence through leadership, respect, customer focus, collaboration and innovation, to ensure that all dissatisfaction and feedback are properly investigated and resolved amicably.
Customer's dissatisfaction and feedback are viewed as bridging opportunities not only to resolve customer's concerns, but to build and expand the School's knowledge so as to allow for continuous improvements of its offerings and services.
Each matter will be handled with delicate care, personally and professionally. All personal and sensitive information collected in the course of the feedback will be kept strictly confidential.
Feedback Management Process
Approach the immediate Homeroom Teacher, who will attempt to resolve the matter within 3 working days.
In the event that the matter cannot be resolved, it will be brought up to the Senior Teacher/ Coordinator, who will attempt to resolve the matter within 5 working days.
At this point, the complainant will be required to submit a formal written request – either via a self-drafted letter, or complete the
Formal Complaint Form and furnish all supporting documentations (where applicable) to the Manager.
If the matter still can't be resolved, it will be handed over to the Manager, who will attempt to resolve the dissatisfaction within 5 working days.
Lastly, if the matter is still unresolved, the Principal will intervene and resolve the matter amicably within 5 working days.
We will always work in the interest and favor of the child in mind.
Please have a look at the Feedback Process Chart.
DOWNLOADS SECTION