Gifted Minds International School
Gifted Minds International School, Opaallaan 1190-1196 Hoofddorp 2132 LN, Netherlands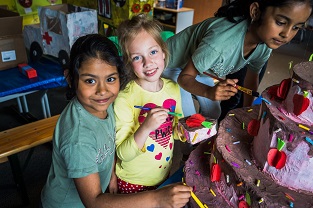 Gifted Minds International School(GMIS) ) is the first international school to be located at Hoofddrop that has approximately 2000 sq meters of a former office building with 4 levels ,has been converted to a school learning environment for international students.
GMIS has raised the global bar for our students learning to golden international standards with our eclectic teaching approaches and pedagogical practices. Our current research based curriculum that caters to each individual child's needs. At GMIS,teachers and students invent,rethink,co-construct and innovate ideas for teaching and learning processes which are combined in excellence with equity for the paradigm of international education.All students and staff at GMIS have meaningful targets and measurable goals to achieve, for the pillar of primary school international education.
Our international curriculum is facilitated by Professionally Qualified and Trained full time Homeroom Tutors and Specialized Subject Teachers : Physical and Health Education,Additional Languages (Dutch/French),Art,Music and Drama. Both our full time and part time educators are highly trained and qualified both locally and internationally. All teaching and non-teaching staff have been cleared by the Bureau to be allowed to work with or teach our children. Our Educators are continuously attending in- house trainings and outsourced professional courses to keep up with the latest teachings and methodologies in their fields so that they are constantly providing high quality standards, working to improve and cater to each and every child's Social, Emotional,Linguistics, Intellectual,Physical,Talent and Academic needs.
Lastly, it is our aim to give the best international education for the children at GMIS and now we are – with effect from the 3rd of February 2015 – a candidate school of International Baccalaureate (IB) Primary Years Programme School(PYP).