GMIS Parents Group
Gifted Minds International School, Opaallaan 1190-1196 Hoofddorp 2132 LN, Netherlands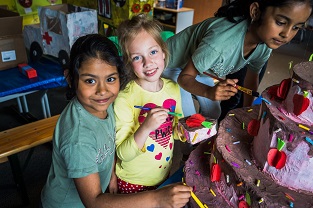 Gifted Minds International School (GMIS) Parent Group
In GMIS, every parent becomes a member of the GMIS Parent Group when they join our school. Parents play a vital partnership in their child's life .Their connections, contributions and participation in our school activities and events will strengthen the relationship between them and the child. Plus, its gives the school a new perspective to thrive for success and healthier growth with the child and parent .
Parents can elect parents to join the Parent Group Committee. The Parent Group Committee Representative/s can address or highlight valuable suggestions about the school's operations or assist in organizing events during the monthly school management meeting. The School Management welcomes and respects parents' perspectives immensely.
Suggested Assistance of events by Parents Groups:
* Volunteer field trips
* Organize Events eg. Diwali Night, Xmas, Halloween Party, Sports Day and other *Fund Raising Events etc.