ICT
Gifted Minds International School, Opaallaan 1190-1196 Hoofddorp 2132 LN, Netherlands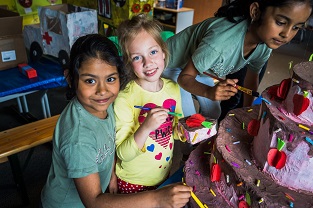 ICT: Transforming Learning with Technology
The triumph of Technology that we witness today is the vehicle to the future. From mechanical advantage to information edge, learning how to harness the power of various technologies has been the foundation to current and future success.
We have implemented a 1:1 laptop program and integrated technology into our curriculum from a very young age so that students can be exposed to technology as it truly empowers them through hands on learning and provides a rich set of options.
All Parents are encouraged to purchase laptops (tablets) for their child's lessons and their tablet will be returned end of every lesson/week. This tool is used in lessons for understanding technology's usage, articulation, creation, personal and social reflection. Futhermore, Technology transforms learners and learning-to become independent, self regulated, life long seekers and constructors of knowledge.