Gifted Minds International school Amsterdam
Gifted Minds International School, Opaallaan 1190-1196 Hoofddorp 2132 LN, Netherlands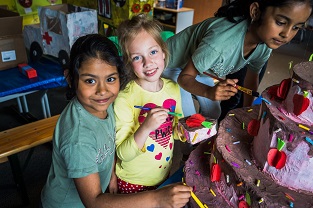 Gifted Minds International School (GMIS) is a premium international school in the region of Amsterdam that advocates "child first" policy. Our ethos and policies promote the best interest of every child. Gifted Minds international school believes that every child is gifted and talented in their own way. At GMIS,we celebrate this "Giftedness" in every child by nurturing and enhancing their minds to their fullest potential. In addition, every child is respected regardless of their developmental needs, race, religion and nationality.
Our International School is located in Hoofddorp which is close to Amsterdam Airport: Schipol.
.
Two sections at our international school in region Amsterdam
Gifted Minds International School provides educational services from Preschool to Primary years. We have two sections:
Preschool Section ranges from 3 to 5 years old.
Primary Sections ranges from 6 to 12 years old.
At GMIS,our medium of instruction is in English. As of now, we provide additional language classes which are taught twice a week in Dutch and/or in French. Our objective is to cater to the learning needs of the diverse language community and open classes according to the language demands. In the future we also plan to provide additional languages in German, Spanish, Japanese, Hindi and Mandarin. Our language services, extends in providing additional languages as purposeful enrichment classes for the sustainability of the language bridges in the development of intercultural understanding and awareness for our students.
GMIS has raised the global bar for our students learning to golden international standards with our eclectic teaching approaches and pedagogical practices. All students and staff at our international school in the region of Amsterdam have meaningful targets and measurable goals to achieve, for the pillar of primary school international education.
More information about our international school in region Amsterdam
Do you want to know more information about our International school which is located in the Amsterdam region? You can call us at 023 88 888 74 or email us at enquiry@giftedmindsinternationalschool.com to coordinate a site visit at Opaallaan 1190 – 1196,2132 LN in Hoofddorp.