Preschool Curriculum
Gifted Minds International School, Opaallaan 1190-1196 Hoofddorp 2132 LN, Netherlands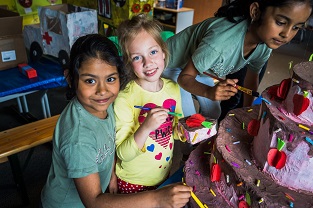 "Gifted Minds" preschool curriculum gives paramount importance to each and every child's learning and development through focusing on knowledge, skills, abilities, feelings and disposition.
"Play" is the synonym for "Work" in the context of child's active participation whereby children explore, discover, invent, reinvent, create,co-construct, engage, listen and learn through various modes of experiential hands on tasks and activities in our school.
Our uniquely designed child centered program has an eclectic approach, with many fun filled, play based activities that holistically enhances a child's 5 domains called "PILES" – Physical, Intellectual, Language, Emotional and Social developments.
We are passionately committed to strive for excellency through our school's curriculum that promotes children to be autonomous and active learners, thus, making meaningful connections in our safe, stimulatingand print rich environment.
The Preschool Section ranges from 3 to 5 years old.We offer Group 0(Nursery class) half-day and full-day options and for the kindergarteners full-day program.Our Language and Literacy in-house animated and creative program encompasses auditory, visual and spatial elements.The Numeracy,Science,and Social Studies lessons are fun based, age appropriate and safe experiments that will keep the young minds engaged and spell bound!Scientific Research shows that brain activity is significantly heightened after 20 minutes of physical activity that leads to better retention and synthesis of information.Thus, our lessons are designed to increase attention,motivation and participation that have phenomenal academic gains.
Our highly trained qualified Educators facilitate and scaffold children's learning byproviding them with numerous life-long experiences and developmentally age appropriate activities that challenges their thinking positively. In addition, we provide a conducive child teacher ratio to maintain a high quality child – teacher interaction, supervision and communication at all times. We have incorporated Howard Gardner's Multiple Intelligences in our current research based, comprehensive, sensory rich, engaging and interactive curriculum that will fascinate your child and you!
Gifted Minds International School is a candidate school for the Primary Years Programme. This school is pursuing authorization as an IB World School. These are schools that share a common philosophy,a commitment to high quality, challenging, international education that Gifted Minds International School believes is important for
our students.