PRIMARY YEARS PROGRAM CURRICULUM
Gifted Minds International School, Opaallaan 1190-1196 Hoofddorp 2132 LN, Netherlands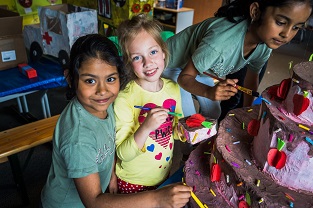 GMIS offers 2 comprehensive rigorous academic programs of learning and teaching in combination: International Baccalaureate Primary Years Program(IBPYP) and Common Core State Standards (CCSS).
IB PYP is one of the highest ranked Academic Program in the world and prepares students to be balanced,knowledgeable, active lifelong learners, who are able to cope with the ever changing world.
Common Core State Standards(CCSS) are American based educational standards that students from Kindergarten till High School should achieve at the end of each grade.The standards are consistent,evidence and research based with the application of knowledge through higher order thinking skills.
The IBO fully supports the use of Common Core State Standards (CCSS).Based on this support and a thorough review of the CCSS,GMIS has adopted and integrated the CCSS in the Preschool and Primary Sections.
Gifted Minds International School is a candidate school for the Primary Years Programme(PYP). The school is pursuing authorization as an IB World School. These are schools that share a common philosophy, a commitment to high quality, challenging, international education that Gifted Minds International Schoolbelievesis important for
our students.
The PYP School program is for students ranging from 3 to 12 years old, which provides the foundation for the development of every child. The primary school years serve as the period when learning takes place exponentially. Every child is like a sponge, being able to absorb maximum knowledge if placed in the right environment and provided with the best education. Gifted Minds International School (GMIS) provides the necessary ingredients in molding the best in every child to their maximum potential.
We have the tools to reinforce learning in every way that shapes and sculpts the bright minds. As the child discovers and learns to read, write and calculate, she/he will embark on this journey to embrace the joy of learning. We provide with the best in the field of education. The matrix of knowledge can be divided in areas of English, Science,Mathematics,Social Studies, Art, Physical and Health Education, Music, Language and Drama. At GMIS, we believe that learning is a continuous process for Students, Parents and Teachers.
At every grade level,only 24 students are enrolled as we promote quality driven small group teachings.Our child teacher ratio is as follows:
Grade
Age
Teacher
Student
Nursery ( Group 0)
3-4 years old
1Homeroom Tutor

2Assistant Teachers

24
Group 1 till Group 8

Kindergarten to Primary School

4- 12 years old
1Homeroom Tutor

1Assistant Teacher

24
Function of Homeroom Tutor(HT):A qualified Primary school Teacher who teaches Language & Literacy,Numeracy,Science, Social Studies, Information Technology(IT) and Critical Thinking.She or He would be in charge of each grade and provides pastoral care.On top of it,HTs are in charge of designing learning centers,formative and Summative assessments and work station activities. These activities aid students to learn and teach each other simultaneously.
Below is a list of Specialist Teachers as follows:
1.Art Teacher
2.Drama Teacher
3.Music Teacher
4.Physical and Health Education Teacher
5.Language Teachers:Dutch and French
6.English as a 2nd Language(ESL)
All Specialist Teachers teach twice a week.
Our Transdisciplinary Curriculum is inquiry based and students are encouraged to explore through constructivism and gain deeper understanding of the knowledge they have learnt. Furthermore, our trained teachers scaffold their learning during teachable moments and experiential hands on activities.
Extra-Curricular Activities:
"No play and study makes Jill a dull boy''.As the saying goes,here at GMIS,all students take part in character and talent building activities.They participate and enhance on sports based or interest based activities that promote team building,leadership and marksmanship.All students(Nursery half day students not applicable)participate twice a week after school.All clubs and activities will depend on students' interest and demand(Minimum 5 students per activity).
*All students(Nursery full-day students applicable)enjoy swimming lessons once a week during the curriculum time (school time).GMIS has made arrangements to conduct swimming lessons at the Koning Willem AlexanderSportcomplex.http://www.skwa.nl/
Below is a list of Extra Curricular Activities that the school provides:
Geography Club
Gastronomy Club
Chess Club
Yoga Clubhouse
Soccer
Mathematics through Games Club
Spanish
Origami
Voice Lesson / Choir
Hence, we believe in giving the tools that invokes the learning in every child. Creativity, inspiration and motivation are key factors that ensure that a child is in a positive and stimulating learning environment.