Principal's Message
Gifted Minds International School, Opaallaan 1190-1196 Hoofddorp 2132 LN, Netherlands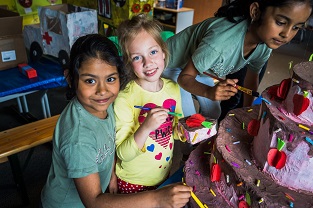 Welcome to Gifted Minds International School! We are located strategically at the heart of the city's hub of learning and culture. Being based in the beautiful and robust city of Hoofddrop, and being the 1st International School at Hoofddrop, our school constantly strives to integrate the local and international community as one, incorporating the Netherlands traditions and culture in this cosmopolitan city. Our school's purpose is to inculcate the values and needs of a globalized society. We are motivated to bring out the gifts in every child and guide them to embrace those gifts and to achieve the best they can be.  This positive motivation inspires them to make choices that will determine their vocation from earlier on, teaching them to find their innate talents and abilities that will develop their holistic capabilities for a rapidly changing world.
Our mission is to constantly review our curriculum to suit the needs of our children. We have implemented a "One for One-laptop " technology program for all the children in their everyday learning. The knowledge and skills imbibed in the curriculum, works towards harnessing individual abilities in an environment that is conducive in nurturing the child to enjoy learning. GMIS is an international minded environment with different traditions and cultures that instills good values and character building traits in children. Thus, harmonizing with one another – regardless of race, language or religion. The fundamental needs of an ecologically driven attitude would teach the young minds the importance of sharing the environment and to protect mother earth.
Being a 21st Century International School,GMIS has integrated into the "NetGeneration"with the latest interactive and Student-Parent cum teacher friendly technology that brings significant changes to learning and teaching.We are using the "SISAR's"http://www.sisargroup.com/ school management system that helps with school bus tracking to progress report notifications to name a few .Becoming a techno literate,(regardless if you are a student,teacher or parent), aids everyone to navigate information with active learning,interaction,autonomy and confidence.
Our curriculum is designed to encourage a growth mindset in contrast to a fixed mindset that would enable the children to always learn. We believe in the importance of making a difference even in the smallest way possible to carve a world that inspires confidence in the younger generation striving for responsible excellence. GMIS wants to connect the giftedness in everyone, to create a peaceful and knowledge based society.We have the ingredients to not only help your child enjoy learning but to ensure they grow up to contribute their joys and gifts to empower the world.
We strongly believe that it takes a community to raise a child. Therefore, we work closely with our teachers and parents to bring out the best in every child. Interested parents are welcome to contact the school to learn more about our programs.
We look forward to meeting you.
Ramesh Mahalingam
MA in Education, BA in Education(1st class Hons with Merit)
GMIS Principal